We'd like to know a little bit about you for our files…
From a collector's perspective, purchasing items that are engraved is generally considered a no-no, as engravings often reduce the value of the item, sometimes significantly. However, there are times when an engraved item catches one's eye and capture's one's imagination.

Such was the case when I first acquired this "traveller" combo writing implement. While not marked as a Mordan, it is identical to others made by Mordan and Co. and is quite likely a custom piece made by them.
George Murray (1814-1864) became the 6th Duke of Atholl in 1846. During his period as Duke, his preference was to use the spelling Athole, rather than Atholl. His wife was Anne Murray, Duchess of Athole, born Anne Home-Drummond (1814-1897). In 1863, the Duke became ill (neck cancer) and died in January 1864, his wife now becoming the Duchess Dowager of Athole. The Duchess Dowager was a very close friend of Queen Victoria, and she served the Queen as "Lady of the Bedchamber" for almost 40 years.
Their son, John Murray, assumed the title of 7th Duke of Atholl following his father's death, and the Duchess Dowager was given until Whitsunday, 1864 to move to what would be her new permanent residence in Dunkeld. Whitsunday is the name used by Methodists and Anglicans for Pentecost, the 7th Sunday after Easter. In 1864, Whitsunday was May 15.
John Robertson was one of many individuals on the staff of the Duke and Duchess. He had been hired as a Factor, which I believe would have been a business agent for the estate, responsible for buying goods as well as disposing of goods on behalf of the Duke and Duchess.
From the various clues provided by the history of the Duke and Duchess as well as by the inscription on the item itself, the belief is that this combo is likely one of several that were custom ordered by the Duchess Dowager, and given as a"thank you" gift as she departed the estate in May, 1864. It would have been a relatively expensive item at the time and as such only given to the more senior staff members. As a custom piece, the maker's name may have been left off in order to allow sufficient room for the lengthy inscription.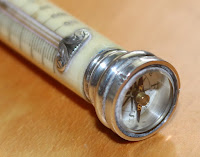 Writing implements such as this were referred to as "travellers" for rather obvious reasons as they included a pencil, dip pen, thermometer, and a compass in the finial. It is a fairly rare item, and it is even rarer to find one with the mercury thermometer not only intact, but actually still working. It is 4.25″ (10.5 cm) in length when closed, and just under 5.25″ (13 cm) when the pencil is extended. The pen nib is gold, stamped "Adamant Pointed London".
Are there other identical travellers still out there that are similarly inscribed to other members of the Duchess Dowager's household? Who knows, but that is how a simple inscription, on a rare writing implement, grabbed my attention and began my quest to find out more.
And during the entire time that I was doing the research and writing of this blog entry, Simon & Garfunkel's "Mrs. Robinson" became an earworm that I could not get rid of… and hopefully it is now stuck in your head as well… you're welcome!
One last fun fact … Alexander Mackenzie, the 2nd Prime Minister of Canada from 1873-1878, was born in 1822 in Logierait, Scotland, a small community near Dunkeld and within the boundaries of the Atholl estate. He emigrated to Canada a few years prior to the arrival of the 6th Duke in 1846.
Note : Background history & images of the Duke & Duchess of Athole – "Chronicles of Atholl & Tullibardine Families", by John Murray, 7th Duke of Atholl, 1908