Last night's temperature here was a rather frosty -19C (-2F) with the wind chill. What better reason than that to crank up the furnace and spend a bit of time gently cleaning the newest addition to the collection?
This tiny pencil is the nicest one to come my way in quite some time. It arrived during this week's cold snap, causing that horrid seasonal earworm to find its way into my head as I opened the very cold package that it was in, argghh.
It is a rare and special little pencil, so I'm glad that it arrived safely, and is no longer bouncing around in freezing delivery trucks …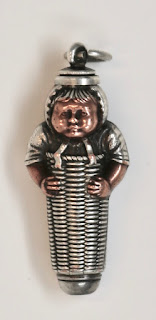 Edward Todd Magic Pencil

c. 1880
A figural magic pencil, it was made in the U.S. by Edward Todd & Co. The design is of a Native American papoose in a "wicker" cradleboard (from the expression on the baby's face, it appears to be still trying to get warm!). The inner barrel, and cradleboard are made from silver, while the baby's face and arms are copper. It is tiny; just 1.25″ long closed, and 2.25″ when fully extended.
Edward Todd & Co. was established in 1870 and the company remained in business for over half a century. The company's primary focus seems to have been gold & steel pens (nibs), along with the increasingly popular fountain pens (based upon what I could find online in terms of old advertisements, various forums, etc.). Most of the surviving pencils made by Todd seem to be of the novelty/figural type, and even those are quite rare to find in such near-perfect condition. The combination of metals used is another uncommon aspect of this particular pencil. I believe this one to be an early Todd pencil (c. 1875-1890), as the imprint is simply "Edward Todd & Co.", and it does not include the Todd company maker's mark that generally accompanied the Todd imprint on most of the later pencils.

Edward Todd & Co.
Now it's time to put on some great old classic Christmas tunes and get rid of that damn earworm…