This has been one of my favourite quotes for many years now. While the quote is attributed to Louis Pasteur in 1854, I first heard it from a National Geographic photographer explaining to his audience how he managed to get this one particularly spectacular shot. For me, the quote beautifully sums up a strategy applicable to many aspects of life, including collecting!
When I first began collecting pencils, I would often purchase "lots" whenever possible, simply to expand the collection quickly. As I gained experience I quickly realized that vendors selling multiples of an item were often cleaning out their own collections of the less desirable, or non-functioning, pencils. Since then I have generally only purchased pencils one or two at a time, and only when a good description and clear photos are provided.
However, the appeal of buying several pencils at a time is still there. Sometimes "lots" include hidden gems that the seller is unaware of and occasionally the desire to bid on a pencil "lot" bubbles to the surface when I think I see something in the photos that the seller may have missed. Such was the case recently when I purchased a "lot" of 7 pencils from an online dealer.
The description indicated that 2 of the pencils were made by S. Mordan and that attracted my attention initially. As for the remaining 5, the description simply indicated that the makers were unknown but that they were in good condition. The photos suggested a different story, so I decided to take a gamble as the Mordans alone were worth the final price paid. Once they arrived and I was able to examine them more closely, under the loupe. I was able to confirm my initial suspicions and have now happily added 4 of the 7 to my collection…
The first of the 4 "keepers" is a very nice Mordan combination pencil/pen, full hallmarked for London, 1900.
It is in near mint, working, condition.
The second is a small silver and gold magic pencil, just 1.5″ long when closed, and 3″ when extended. The combination of silver & gold isn't often seen, which appealed to me, and the photos suggested that it was in excellent condition.
The excellent condition of the pencil was confirmed when received, but the more pleasant surprise was seeing that the upper barrel had been stamped "LWF & Co".
Leroy Fairchild was a 19th American pencil case maker (New York) and his pencils were generally higher quality and well made. The variety of his offerings in terms of pen and pencils was arguably as broad as that of Sampson Mordan and this is a nice addition to the variety of Fairchild pencils, combos, and figurals already in the collection.
The last two pencils also had identifying marks on them, and both are the first pencils from those makers that I have been able to acquire.
This magic pencil was made by John Knapp of New York. It is 2.75″ when closed and 5″ when extended.
While his name isn't on the pencil, the upper barrel is stamped "Pat. Feb. 6 '72". This patent date is tied to two pencil-case patents filed by John Knapp on that date – #123,485, and #123,486.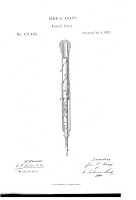 Patent 123,485 was the specific patent that applied to the design of this pencil.
Pencil #4 is a bit of an odd duck, and likely requires more research before I can determine the actual maker with more certainty. It is a tablet style pencil; a full 6″ in length. Examining the barrel under the loupe I was able to make out "Drew & Sons Piccadilly Circus W". After a bit of digging I was able to determine that John Drew founded the company in 1844, with his sons Samuel and Ernest eventually taking over. The company was known as a supplier of high-end gentleman's accessories, including items such as cigar cases, picnic baskets, flasks, luggage, and … pen sets.
The company remained in business until the mid-1930's and was located at Piccadilly Circus from 1887 to 1914. These types of high-end retailers often had specialist firms (such as S. Mordan) manufacture the items which were then branded with their own company name (as many retailers still do today).
The remaining 3 pencils will be sold at some point (including the 2nd Mordan which was not a desirable design) and the 4 pencils now added to the collection are worth far more than the price I paid for the entire "lot".
This time, with a lot more experience, and by being cautious up front, the bulk purchase approach paid off – sometimes chance DOES favour the prepared mind…