Commemorative "souvenirs" have been a big deal for collectors for centuries. At one time or another almost all of us have fallen prey to the schlocky "mementos" offered up by tacky souvenir stands everywhere. We may purchase something "for the kids" as a family vacation keepsake, or treat ourselves to a souvenir t-shirt while attending a major concert or sporting event, or we may simply be buying grandma yet another "Royal" teacup for her already overflowing teacup shelf. No matter the reason, we humans tend to buy a lot of this stuff.
Most of these trinkets eventually break, wear out, or simply end up in a garage sale or a landfill site. But on occasion these little gems survive for generations, far beyond their expected life span. More often than not, the motives of the original purchaser, and the stories that might explain the item's longevity, have been lost with the passage of time, but the fact that these items are still with us today is at the very least, proof of their value to their past custodians.
Within my collection there is a variety of commemorative type pieces, some could safely be labelled as belonging to the "schlocky memento" category, and a few are of a somewhat higher classification, although still being mementos that held special meaning to someone at a special time and place in the past.
Here are a few of the pencils, and in a future entry I'll focus on some of my other writing related commemorative pieces…
Duke of Wellington – Arthur Wellesley, 1st Duke of Wellington (1769-1852) – While he is remembered primarily for his defeat of Napoleon in 1815, the Duke of Wellington had established himself among the elite of the British military well before the Battle of Waterloo, and his influence, both militarily and politically, carried on long afterward. He was commissioned as an ensign into the British Army in 1787 and by 1803 Wellesley had become a Major-General, with his first major victory being against the Maratha Confederacy at the Battle of Assaye. Including his victory over Napoleon at the Battle of Waterloo, during his military career Wellington fought in over 60 battles, and his tactics and battle plans are still studied at military academies around the world. He remained Commander in Chief of the British Army until his death in 1852, and he twice served as Britain's Prime Minister.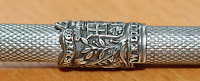 The design patent for this commemorative pencil was filed the same year that Wellington died (1852), by Alfred Taylor of Birmingham (design patent # 87148). The finial is a bust of Wellington and the slide is styled with the Wellington Coat of Arms, along with his year of birth, year of death, and references to his two greatest battles – Assaye, and Waterloo.

General Charles Gordon (1833-1885) – General Gordon saw action in the mid-1850's during the Crimean War, and he went on to become known as "Chinese Gordon" for his efforts in suppressing the Taiping Rebellion in China during the early 1860's. Gordon spent much of the 1870's as Governor-General of the Sudan. In 1884 he was sent back to the Sudan with orders to evacuate Khartoum due to an uprising in the area. Instead, he apparently thought that trying to convert the leader of the uprising was a better idea, and that did not work out so well for him. Gordon was killed two days before a British relief force arrived.
In 1898, Field Marshal Kitchener arrived on the scene, ordered to exact revenge for Gordon's untimely death by the Mahdist forces. The Battle of Omdurman followed, and the British ultimately re-conquered the Sudan. Only after the battle did Kitchener find out from the British Prime Minister that the real purpose of his expedition had been to keep the French out of the Sudan. By getting there before France's army, he was able to ensure that France could not take possession of Sudan and that way force the British out of Egypt.
Known at the time (1899) as "The Khartoum Pencil", these pencils were made from battlefield relics (.303 shell casings), and converted into pencils by a quality pencilcase maker such as Sampson Mordan. The casing is engraved with "Omdurman" and "Remember Gordon".

Mappin Brothers of London had the exclusive rights to make and sell these pencils, with 10% of sales going to the "Funds of the Gordon Memorial College of Khartoum".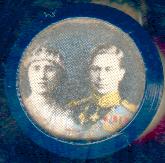 The "Royals" – In January, 1936, George V died and his eldest son Edward VIII succeeded him. That is, until December, 1936, when Edward decided to abdicate so that he could marry Wallis Simpson. Edward's brother George was next in line and his coronation was set for May 12, 1937 (the same date that Edward's coronation had originally been planned for). Edward's short-lived reign likely explains why I've not found any commemorative pencils for him, but the next two monarchies each offered up a pencil to those that desired such a memento. The first commemorated the inauguration of George VI and it was distributed by the Burgh of Coatbridge in Scotland. The cap of the pencil even included a tiny portrait of King George VI and Queen Elizabeth.
Not to be outdone in the tacky department, the coronation of Queen Elizabeth in 1953 also provided a commemorative pencil, complete with a "jewel-studded crown" finial.

At the time of their original purchase, the human emotional connection with these commemorative pencils almost certainly surpassed the functional appeal of a regular propelling pencil, and it is that emotional connection that in turn has attracted me to these commemorative pieces when I find them, but they just don't pop up all that often. I suspect that when our kids or grandkids clean out our home one day they will find similar trinkets that only hold memories for their current owners, but hopefully they will decide hang onto one or two and take care of them as a favour to some future collector in the coming generations!
With regards to these specific pieces… for the most part, my writing equipment collecting tastes are literally "all over the map", but perhaps something more subliminal was guiding my subconscious as I acquired these pieces… I live in the city of Waterloo, which is next to the city of Kitchener, and the town of Wellesley. We are also next door to the County of Wellington, and the "Royal City" of Guelph, both only a few miles down the road… and we're not even in England…
Sources:
Wikipedia
U.K. National Archives – British Design Patents