It just sounds so much nicer when said in French rather than the English, "Snail Inkwells", doesn't it? In fact, it was the use of that French phrase in the seller's description that caught my eye with the first snail inkwell that I purchased.
The design is believed to have originated in France in the mid-1800's, and then in the latter half of the 19th century a number of American makers began producing them. The French versions all seem to be porcelain, while the American versions were often clear glass or milk glass, although the odd coloured glass version shows up.
The simple logic behind the design is quite clever; when the "snail" is in the forward position the ink is accessible, and in order to reduce evaporation when not in use, you roll the "snail" upwards against a flat plate that covers the opening.
I currently only have two snails in my collections (both French, I believe) but I'm pretty sure I could find room for a couple more if the opportunity presents itself.
This was the first one I purchased. It is a nice clean white porcelain inkwell. The brass medallions on either side read "Encrier Bascule Paris J.L.". "Bascule Encrier" translates to "Rocker Inkwell"; I suspect that "J.L." are the maker's initials but I have yet to be able to confirm this.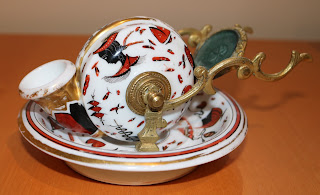 This second one has a really great design which I suspect dates to the 1920's or perhaps a little earlier. It seems to have a lot of symbolism but nothing that I recognize from anywhere else. It is also porcelain, and probably french-made as well.
The following are a few examples from my wish list. I would like to obtain an example of a double or triple snail inkwell, and the final image is of an all metal version that I have only seen two of (and neither one was for sale) but I am intrigued by the "Mad Max" look of it and would love to find one for the collection.
This double one has been made out of milk glass with the "snails" being molded into dog faces. Likely american made (they tended to have heavy metal bases on most of them).
Although not obvious from the photo, this is a rare triple snail inkwell. White porcelain and of french origin.
This one is rather odd in that it appears to be all metal, including the "snail" part of the inkwell. It has a built-in candle holder in addition to the penholder. The extremely upright & compact design, including the rear hinged leg, suggests that it was perhaps intended for travel?