Maiden Lane is a short street (barely half a mile long) located in Manhattan's Financial District. The street has a very interesting & colourful history dating back to the late 17th century, but from the beginning of the 19th century to the early 20th century it was also the centre of New York's jewellery district. During this period, Maiden Lane, along with a couple of adjoining streets, was home to many of America's major pen and pencil case makers.
According to Jonathan Veley's extensive research, summarized in the blog series – "From Bagley Through Todd", one particular address on Maiden Lane was home to a revolving door of pencil case makers over a relatively brief period of about 15 years starting in the mid-1850's … One Maiden Lane.
The first of the pencil case makers at One Maiden was likely Bagley, Houghton, & Co. Albert G. Bagley had partnered with Henry H. Houghton sometime around 1849 and their company was listed down the street at #12 Maiden Lane in 1853. Bagley's tenure at #1 Maiden Lane would have to have been quite short as he retired in 1856. The only Albert Bagley pencil I have may pre-date his time at One Maiden Lane. It has his January 1, 1850 patent date imprinted on the inner barrel …

Albert Bagley Combo Pencil / Pen

Albert Bagley Patent Jan. 1, 1850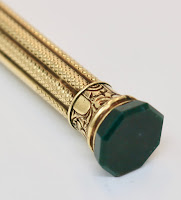 Coinciding with Bagley's retirement, Henry Houghton established a partnership with Charles Newton beginning in 1856. A little over a year later, Houghton died, and Newton carried on the business on his own, eventually establishing a partnership with James Byrne and Joseph Monaghan in 1861. This partnership was joined by Keller Kurtz in 1864.

Newton, Kurtz Pencil
As Veley explains in part two of his "From Bagley Through Todd" blog series, Byrne left the company shortly thereafter and on January 1, 1865 a new partnership was formed, named Newton, Kurtz & Co..

Newton, Kurtz c. 1865
This Newton, Kurtz & Co. pencil is imprinted with the company name, as well as the imprint for Charles Goodyear's May 6, 1851 vulcanized rubber patent…

Kurtz, Monaghan c. 1867

Kurtz, Monaghan
Constant change was the norm at One Maiden Lane, and just over a year later Charles Newton retired, and in May, 1867 the company name became Kurtz, Monaghan & Co.. This example of a Kurtz, Monaghan is one of my favourite ebonite (hard rubber) pencils as it is the much rarer "red" colour. It is imprinted with the company name, "Kurtz & Monaghan N.Y.", as well as the Goodyear 1851 patent date.
In March, 1870 Kurtz retired, but Monaghan would not be alone for long. In September, 1870 Edward Todd (who had retired in 1868 from another pen & pencil case maker of note that was located just down the street – Mabie Todd & Co.) established a partnership with Monaghan under the name Edward Todd & Co.. This company name stayed associated with the business through a number of succeeding partnerships, extending into the 20th century, although the company appears to have departed from Maiden Lane prior to 1895. The inner barrel of this tiny magic pencil is imprinted "Sterling", along with the Edward Todd logo.

Edward Todd Magic Pencil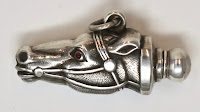 Edward Todd c. 1900
The above pencils are examples that represent several, but not all, of the makers resident at One Maiden Lane over that brief period between 1856 and 1870. There may be named pens & pencils out there from some of the other partnerships (e.g. Bagley, Houghton & Co., or H. H. Houghton & Co.), but I've yet to come across any. In some cases the maker may have simply continued to produce items bearing the name of a predecessor. For example, Veley's blog series includes a newspaper advertisement from December, 1859 which states "Bagley's Celebrated Gold Pens and Pencil Cases, Manufactured by C.F. Newton". This was 3 years after Bagley's retirement and 2 years after Houghton's demise so Newton may well have simply continued producing "Bagley" pencils and pens right up until his partnership with Kurtz began, and never produced any imprinted with just his own company name.
Jonathan Veley provides a fascinating (and vastly more thorough) history of the parade of partnerships at One Maiden Lane in his blog and I highly recommend taking some time to read all four parts of the story.
Sources :
Jonathan Veley – The Leadhead's Pencil Blog – blog series "From Bagley Through Todd"
Wikipedia – Maiden Lane