Most of us, upon hearing the name "Goodyear", immediately think of the tire industry. Lesser known is the fact that while Charles Goodyear has been credited for being the inventor of vulcanized rubber back in the 1840's, he and his descendants were never actually connected with the Goodyear corporation, other than through the corporation's use of their name.
Charles Goodyear was a self-taught chemist and inventor. In the late 1830's and early 1840's Charles was quite literally obsessed with finding a way to remove the stickiness and stabilize existing rubber solutions. He was ultimately able to file a patent for his new product – U.S. patent #3633, June 15, 1844. How Charles got to that point, and his related horrible business decisions, make for quite a fascinating read – "The Charles Goodyear Story"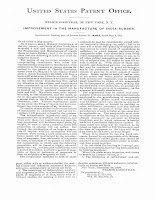 In the late 1840's Charles Goodyear's brother Nelson began doing his own rubber experiments, expanding on the advances that Charles had made. In its simplest form, Nelson found that he could create a very hard, non-elastic form of rubber by increasing the processing temperature and the percentage of sulphur being used. The resulting product was called "hard rubber" or "ebonite". In December of 1850 Nelson filed a patent for his new process which was granted as Patent #8075, on May 6, 1851.
Hard rubber was the first man-made plastic. Because of its strength, durability, and ability to be molded into almost any shape desirable, the hard rubber product quickly began to be used in all manner of commercial application, and hard rubber products included everything from buttons and combs, to surgical instruments, false teeth, and even … pencils.
John Mabie, Edward Todd, and a number of other American pencil makers, made use of this hard rubber product as the outer casing for a variety of their pencils and pens. The hard rubber casing covered an inner brass tube, which in turn housed the mechanism itself. Many of these pencil cases were stamped with the imprint for Nelson Goodyear's patent, although many other hard rubber pencils had no markings at all.


Frederick W. Cox – While there is no maker's mark on this pencil, the casing does have the imprints of two patent dates. The pencil is 3.25″ long closed and 4.25″ long when extended. The upper barrel is stamped with Nelson Goodyear's patent – "Goodyears Pat May 6 51" (1851), and the lower barrel is stamped "Pat June 27 1865". The pencil tip is extended by holding the lower barrel and twisting the upper barrel.

I purchased this pencil 12 years ago and I was only able to determine what the second patent date referred to in late 2016, thanks to the research done by another collector, Jonathan Veley. Jon posted a blog entry in September, 2016 indicating that the June 27, 1865 date belonged to patent # 48,374, filed by Frederick W. Cox from Brooklyn. Jon's research also indicates that Cox passed away in 1866. I was unable to determine whether production continued past that point, but the fact that few pencils with this date ever show up for sale suggests that the pencil business likely ended with his death.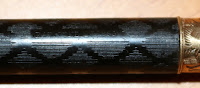 Mabie's Patent – This near mint John Mabie (New York) combination pencil/dip pen dates to approximately 1860. It is 4.0″ long when closed and 5.0″ long when extended. The pencil extends by twisting the upper barrel and the slider ring extends the pen nib. The upper barrel is imprinted with "Mabie's Patent", as well as the Goodyear imprint "Goodyears Pat May 6 51". The pen still retains the original (or near original) nib; a 14kt gold nib from "Palmers & Bechelders", a Boston jeweller/silversmith that only used that form of their company name from 1856-1864.




Kurtz & Monaghan – This c1870 combination pencil/dip pen is another rarity. The New York firm of Kurtz & Monaghan was taken over by Edward Todd in 1871 and the company was renamed "Edward Todd & Co.". This combo is slightly larger in size than many of the other hard rubber combo's – 4.5″ closed, and 5.5″ extended. The colour is referred to as "red hard rubber", although in reality it is much more orange than red. While industry of the day experimented with colouring hard rubber, the early iterations of red hard rubber required the use of several heavy metals such as mercury and lead being added in, and the resulting red hard rubber was often quite brittle (and I suspect that the life expectancy of those making red hard rubber was also significantly reduced!). As a result, most hard rubber items that have survived from that period are basic black.
There is slightly more surface wear to this pencil/pen combo than some of the others in the collection but its rich orange/red colour and its larger size makes it my favourite among the hard rubber pencils/combos.