This is a followup to the June, 2019 entry – Commemorative Pencils, and shows a few of the non-pencil commemoratives/souvenirs in my collection.
While humans and souvenirs have gone hand in hand since the dawn of time, the 19th century industrial revolution allowed Victorians to begin mass producing souvenir type items. These may have had little intrinsic value, but perhaps offered their owners a significant emotional connection to a special event, person, etc. The resulting boom in souvenir collecting, and subsequent retention of these items by intervening generations, has helped provide us with a view into just what was deemed to be important, way, way back in the day…
While most of today's souvenirs & commemoratives may have a life expectancy measured in days and weeks, and are produced in factories located in far-away lands, during the Victorian period many of the souvenirs were of quite high quality for the time, and it was common for even higher end production houses in England to produce their own commemoratives.
General Gordon Ink Bottle – In the 1880's, General Charles "Chinese" Gordon was a big deal in England, and there were many different commemoratives made in recognition of his accomplishments, following his death in 1885. Gordon first established a name for himself (literally) for his role in suppressing the Taiping Rebellion in China during the 1860's, becoming known as "Chinese Gordon". Gordon took over command of the Chinese "Ever Victorious Army" in 1862 and under his leadership they, along with the Chinese Imperial Army, finally put an end to the rebellion in 1864, after over a decade of fighting that had resulted in many tens of millions dead. Although Gordon received credit for his leadership during the conflict, in reality Gordon had also managed to alienate his troops to the point that by the end of the uprising most of his troops had mutinied and those remaining consisted primarily of Taiping rebels that had been taken prisoner and subsequently convinced to switch sides. But the folks back home considered him to be a hero – "Chinese Gordon".
It appears that Chinese Gordon may have had a wee problem understanding orders and in finding ways to work constructively with the locals, a trait that resurrected itself during the Siege of Khartoum almost 20 years later, which resulted in his being beheaded two days before a British relief force arrived.
The "relief force" itself was a disaster in the making from the very beginning. Field Marshal Sir Garnet Wolseley was assigned the task of rescuing Gordon and his troops. But he refused to go up the Nile without the aid of French-Canadian Voyageurs that he had come to admire, resulting in long delays. When the "voyageurs" finally arrived from Canada, many of them were in fact lawyers from Toronto led by a city alderman that wanted to "see the fun of war"; none with any boating skills.
But once again, back home in England Gordon was still a hero, and one to be memorialized in as many forms as possible…
From the little information that I could find pertaining to this pressed glass ink bottle, the design was believed to have been done by "Thomas Kidd" around 1885/1886. At over 4″ in diameter, it is quite large for an ink bottle, especially one that only holds about 2 ounces of ink. The pressed glass is actually a very deep ruby red, although it appears to be black until held up to a light.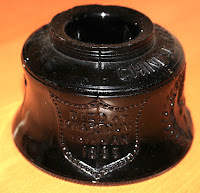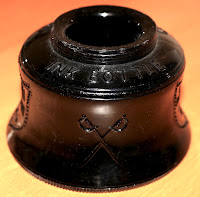 The top of the bottle reads "'CHINESE GORDON' INK BOTTLE". There are four quadrants around the base of the ink bottle showing – a profile image of General Gordon, "BORN 23RD JAN 1833", a pair of crossed swords, and "DIED AT KHARTOUM 26TH JAN 1885".
Chicago World's Fair Inkwell – 1889 saw the Paris World's Fair (Exposition Universalle) captivate Europe, and the world, with its architecture, displays, and its most prominent feature, the Eiffel Tower. America's ego was severely bruised by all the attention that France was getting and it demanded that something bigger, grander, and simply put, just far more over the top, be done, and thus began a 3 year rush to create the Chicago World's Columbian Exposition. It was to be billed as a celebration to mark the 400th anniversary of Columbus' "founding" of the New World. The timelines to create the exposition were impossible, the budget ever growing, and hints of a possible major recession were building, but nothing would quell the drive to have the biggest and best world's fair ever conceived.
And they seem to have pulled it off against all odds. It was held in an area known as Jackson Park, Chicago (along the shores of Lake Michigan). Consisting of nearly 200 buildings spread across 690 acres, with exhibits from 46 different countries, it attracted nearly 27 million visitors during the 6 months it was open. Some of the "firsts" at the fair included the first Ferris Wheel, and it was massive as a first attempt at such an engineering wonder – 264 ft. high, with 36 cars, each capable of holding 40 people. Other Columbian Exposition firsts – Shredded Wheat (how has it been able to survive this long?); the first commercial movie theatre; Juicy Fruit Gum; Pabst Blue Ribbon; Aunt Jemima pancake mix; Cracker Jack; the zipper; first ever elongated coins (squashed pennies)…. and spray painting (invented by necessity as they otherwise would never have finished the buildings on time). Westinghouse won the bid to provide alternating current power; underbidding Edison's direct current company… and the result is what we all now have in our homes…
At the time, Buffalo Bill's Wild West Show was a major attraction around the world, and it had even been part of the Paris World's Fair in 1889. Unable to negotiate a deal that would include his show in the Exposition, Buffalo Bill cleverly secured a 15 acre property immediately adjacent to Jackson Park where he held his show during the Exposition, and reportedly netted a healthy profit of a million dollars (approx. $30M today).
There would have been no shortage of souvenirs available during the Exposition for its millions of visitors to consider as mementos of their visit, including specially minted coins, postcards, spoons, photo books, and ink bottles…
One of these millions of visitors selected this little item, either as a personal souvenir, or perhaps as a gift for a loved one. Designed to give the appearance of a stack of gold coins, the gold coloured metal casing contains a small ink bottle (1 1/2″ high and 1 3/8″ in diameter). The top "coin" of the casing is imprinted "Christopher Columbus" "1492 – Chicago, U.S.A. – 1892".
The "Queen Mary" Pen – Following the outbreak of the First World War in 1914, Queen Mary took it upon herself to establish an organization that would raise funds to assist in finding employment for women during the war. Many organizations found ways to contribute to her fund, and one such organization was Perry & Co. In 1914, Perry & Co. created a limited edition of just 20,000 boxes of pens, with each box containing 18 pens. Each pen is embossed "The Queen Mary Pen".

Christian IX Pens – Who? Perhaps not a recognizable name to many of us but he should be. King Christian IX ruled Denmark from 1863 until his death in 1906. His enduring legacy was not so much any of his accomplishments as Denmark's ruler, but rather his accomplishments as a parent. He and his wife, Queen Louise, had 6 children, all of whom were married into other royal families across Europe, resulting in King Christian IX becoming known as "the father-in-law of Europe". Some of the better known names among his many descendants – Queen Margrethe II of Denmark, Queen Elizabeth II of the United Kingdom, King Phillipe of Belgium, King Felipe VI of Spain, and Prince Philip, Duke of Edinburgh.
These pens date to 1877. Each pen is embossed with a likeness of the King.
Sources : Wikipedia