A collection of Victorian and early 20th century writing equipment wouldn't be complete without at least a minor nod to some of the other interesting items associated with the written word during that period.
In my collection, one such minor nod includes a couple of early 20th century Canada Post items. I am honestly trying to restrain myself when it comes to "minor nods" such as this, but those that know me may be inclined to suggest that I try harder, as when it comes to collecting & collectors, a "couple" of anything can easily become another rabbit hole that quickly leads into a whole new warren crying out for further exploration …
According to Wikipedia, the first known international letter sent from what would, over 400 years later, become part of Canada, was sent in 1527 from St. John's, Newfoundland to King Henry VIII of England. The first known paid mail delivery within Canada took place in 1693, and Canada's federal postal service began just after Confederation, in 1867.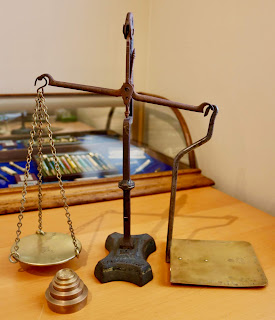 Canada Post Scales – Pritchard & Andrews, Ottawa
This Canada Post scale set dates to the early 20th century, and was made by Pritchard & Andrews, of Ottawa. It would have originally had a beautiful finish of glossy black paint with gold trim (only tiny fragments of which remain due to a rather harsh life over the last century). It would have been a beautiful looking piece in its day, with the black and gold of the centre stand and arms complemented by the gold tones of the solid brass scale pads, suspension chains, and weights. The weights are in ounces – 8, 4, 2, 1, & 1/2. Every major piece of the set is individually stamped "Canada P.O."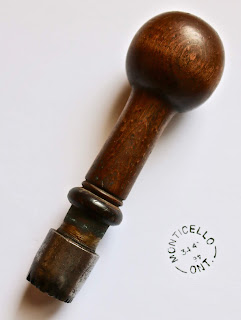 Postage Canceller – Monticello
A few weeks after obtaining the Canada Post scales, my wife handed me a small bag containing a postage canceller and an assortment of 40 metal date stamps that went with it. The canceller was from the Monticello General Store and Post Office in Monticello, Ontario. For over 35 years, from 1931 to the late 1960's, my wife's grandfather owned & operated the Monticello General Store (& Post Office). She had been given the canceller almost 40 years ago, following her grandfather's passing, and it has lain in a drawer, mostly forgotten, ever since.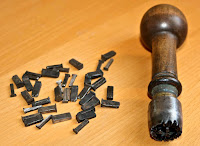 These two simple items remind us of a time before the automation of the postal service, where the service provided was entirely done in person, and by hand.