Several years ago, our daughter and son-in-law moved to a small community in the Lakes District in northern England. Our travels to the UK had previously consisted of a short trip to tour Scotland, and another to attend our daughter's wedding in Cheltenham. Both of those trips hold great memories for us, but it was our visits to their home in the Lakes District that solidified our love of England and Scotland.
The beauty of the Pennines, including Nine Standards Rigg, miles off in the distance on Hartley Fell, can be seen from their front yard, and the gorgeous vistas of Ullswater and Windemere are just a short drive to the west.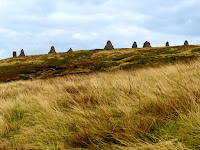 Nine Standards Rigg
On our very first visit we noticed large numbers of people out walking, everywhere! The community where our daughter was living was located along the Coast to Coast "Walk", just one of countless walking paths in the area. We soon discovered that walking is a serious pastime in this part of the world and over the years we've enjoyed a good many walks with the family.
All of which led me to wonder about the origins of this oddly intense and widespread desire in the UK to go for a "walk", no matter the weather conditions. The climate in that area can often be quite pleasant and inviting; however it seemed to us that just as often there would be hours, or days, of unrelentingly foul, dreary, wet, and occasionally frigid, weather conditions, and yet the walkers were ever-present (including ourselves).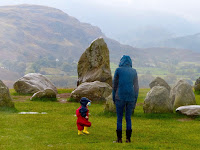 A cold, puddle-jumping, stone circle walk at Castlerigg
It turns out that the majority of the credit for popularizing this sometimes odd behaviour belongs to an 18th century Jesuit Priest named
Thomas West
. Well travelled throughout Europe and the Lakes District, he eventually settled in Furness, and decided to write a guide book for the area. "Guide to the Lakes", was published in 1778 and became a major success, with 7 editions being printed before the turn of the century. Thus began Lakes District walking tourism, and the rest is walking history…William Wordsworth, Alfred Wainwright, and many other writers, followed, but it was Tommy W. that first made the idea of simply walking for pleasure a "thing".
The walkers of today's England, whether out for a casual Sunday afternoon trek, or a 7 day walk along Hadrian's Wall, are all equipped in similar, if more modern, fashion to their Victorian ancestors, with a variety of gear to suit the particular walk they've undertaken; day pack or overnight backpack, food, water, proper hiking boots or good trail shoes, light windbreaker, or full-on rain/all-weather gear, etc.
One of the more noticeable differences between the modern and the late-Victorian walkers would be today's omnipresent cell phones that virtually all walkers have with them. It serves many purposes as a walking "aid" – as a phone of course, should calling for help become necessary, but also as a camera, a gps/mapping device, a timepiece, and even a place to record field notes.
And absent of a cell phone, what special equipment did the well appointed walker of the late 19th / early 20th century have? …
Why, a pencil of course!
But not just ANY pencil… those that could afford it might carry something like this one with them; an exceptional "companion pencil" dating to 1901 and made by London silversmith William Hornby.

1901 Companion Pencil – William Hornby
Recently acquired from the
KB Collection of Pencils
(shown on page 75 of the book), this sterling silver companion pencil includes three different coloured pencils, a compass, a whistle, AND a sun dial. At just 8cm (3″) in length and 2cm (.75″) wide, it allowed walkers of that era to accomplish many of the same functions as our phones offer us today…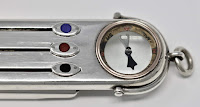 Lost? – Compass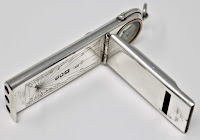 Need help? – Whistle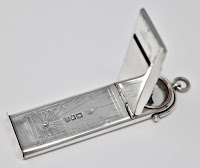 Time for lunch? – Sun Dial

Sketch a memory or take notes
Most of my rarer pencils date to the early to mid-1800's but this one was so unique and in such exceptional condition that I couldn't resist. It is fully hallmarked (in two locations) for William Hornby, London, 1901. All three of the pencils are fully functional and are extended by using the enamelled slider buttons. The compass is inset into the pencil within a band of gold. and is still working. The whistle and sun dial flip open from the back. The whistle has a small protective cap of silver. The sun dial is probably the most unique feature. When the whistle cap is removed there is a tiny "v"notch at the open end to catch the sun's rays. Calibrated at 51 degrees north (as marked just under the "v"), this corresponds to London's latitude. It can be suspended from an Albert chain using the the swivel and ring located at the top.
"I'm just going out for a wee walk dear…" "Well don't forget your pencil…"
Sources : Wikipedia – Walking in the United Kingdom