Like every generation before it and since, most of our Victorian ancestors lived according to the societal norms and "rules" of the day. Unspoken rules governed everything from one's place in Victorian social circles, to fashion, etiquette, the type of work available, and even the level of education that one had access to. While this era may be viewed as being extremely conservative by today's standards, it was also a time of great societal change.
Mechanization was changing the workforce, education was gaining importance throughout all levels of society, a "middle" class began to form, science was becoming a "thing" that everyone was excited about, and towards the end of the Victorian era the population as a whole was gradually loosening up on their conservatism… at least a little.
This loosening up impacted the late victorian lifestyle in many ways including fashion. Quality jewelry became appealing to a much wider population; it became more affordable, and much more widely available. While proper etiquette demanded that one be conservative in the display of jewelry, the loosening of the rules allowed one to be a little flashy without actually crossing the line.
For men during this period, the lowly watch chain became an agent of change. A watch chain was an acceptable piece of male jewelry for obvious reasons. In addition to securing one's pocket watch, the chain gradually began to be used for other subtle displays of one's wealth. Fobs would be added that were wax seals, toothpicks, watch keys (winder), and even pencils. These tiny, figural "charm" pencils were made in a variety of materials including gold and silver, and in many styles and shapes, including animals.
Pig – Sampson Mordan – c1875 – Victorians considered pigs a good luck symbol and I'm sure that this little little guy brought its owner plenty over the years. Just 1.25″ when closed, it balloons to a whopping 3.25″ when fully extended. Sterling silver, and made by S. Mordan, London, U.K.
Horse – Edward Todd – c1890 – This little horse head pencil was made around 1890 by American pencil maker Edward Todd. It is 1.5″ when closed, and 3.0″ when opened. Sterling silver, ruby eyes, with the Edward Todd symbol stamped on the inner barrel.

Owl – William S. Hicks – c1871 – The owl, symbol of wisdom. What self-declared genius of the late 19th century wouldn't want one of these on their watch chain? Made by W.S. Hicks of New York and stamped with "Pat. March 21, '71" which corresponds with Hicks' U.S. patent # 112,917 This little pencil is 1.25″ when closed, and 1.75″ fully extended.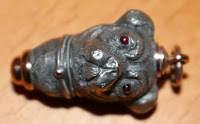 Bull Dog – Unknown Maker – c1890 – Dogs represented loyalty, and this little pencil may have originally been given as a gift in that context. The quality is quite similar to that of the Hicks owl pencil above, and also has ruby eyes. It was most likely made by an american pencil case maker. The pencil is 1.25″ long when closed, and 1.75″ when fully extended.