Why, yes, yes it is his nibs… and some of the boxes in which they reside.
While trying to come up with a title for an entry about some of my pen nib boxes, I was reminded of childhood visits with our grandmother. She grew up in England at the turn of the 20th century and she retained a number of common British sayings her entire life, after emigrating to Canada as a teenager. As 1960's rural Quebec kids, most of these sayings made little sense to us, but she made sure that we always knew what she meant! If one of the 5 of us started to get a little too self-important, or bossy, she'd soon have the cheeky one back in her/his place with an eyebrows raised stony glare, and the words "well, well, would you look at his nibs?" in her finest British accent. But I digress…
Victorian era pen nib manufacturers created an amazing variety of nib styles and sizes to suit every writing need and personal preference. Manufacturers were also very astute to the whims of the buying public when it came to marketing their products, resulting in nibs being designed and produced not just for their functional purpose but often simply to commemorate someone, or something, in much the same way as sports memorabilia is produced today. Here are a few…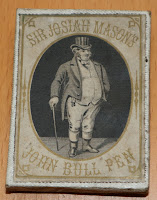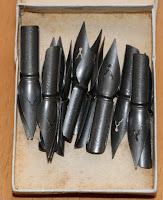 Sir Josiah Mason's "John Bull Pen" – Josiah Mason (1795-1881) was an English industrialist and at one time was the largest pen producer in England. He was also a major philanthropist. In 1860 he founded an orphanage near Birmingham which he endowed with £300,000, which led to his being knighted in 1872. In 1875 he founded Mason Science College which eventually became University of Birmingham. Mason's John Bull pen pays homage to England's famous national character, John Bull.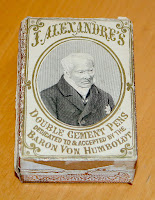 J. Alexandre's "Baron Von Humboldt Pen" – These nibs were made by Perry & Co. around 1860 (the nib box contains a facsimile of part of a letter of approval from the Baron to J. Alexandre dated May 19, 1858). Baron Von Humboldt (1769-1859) was a Prussian polymath, geographer, naturalist, and explorer. He was one of the first to propose that South America and Africa were once connected, and he was the first person to identify human induced climate change (in 1800 and in 1831) based upon his observations during his travels.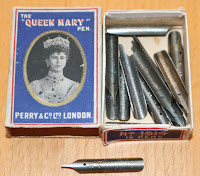 Perry & Co. "Queen Mary Pen" – During the First World War, Perry & Co. received approval from Queen Mary (1867-1953) to produce a limited run of 20,000 boxes of these nibs, as a fund-raiser for the Queen's "Work for Women" fund.
Mumm & Zaum "Christian IX Pen" – Mumm & Zaum was a major continental Europe stationer in the late 1800's. One their commemorative pens was made for Christian IX (1818-1906), King of Denmark from 1863 to 1906. What I particularly like about these nibs is that they were each impressed with the image of the King.

As a young man, Christian had hoped to marry Queen Victoria, his 3rd cousin. When that plan was foiled he married his second cousin, Louise of Hess-Kassel. They had 6 children, 4 of whom actually sat on thrones throughout Europe, either as monarchs or consorts (Denmark, United Kingdom, Russia, and Greece). His descendants include Margretthe II of Denmark, Elizabeth II of England, Philippe of Belgium, Harald V of Norway, Felipe VI of Spain, Grand Duke Henri of Luxembourg, Constantine II of Greece, Queen Anne-Marie of Greece, Queen Sofia of Spain, and Prince Phillip, Duke of Edinburgh, earning him the sobriquet "the father-in-law of Europe".
Sources :
Wikipedia
Grace's Guide to British Industrial History