I have a few "Woodward" pencils in my collection that I had always assumed were from the same period and maker. Only recently did I discover that they were made by two different Woodwards, separated by about half a century, and half a world.
The top two pencils are marked "Woodwards & Hale"; the bottom two are marked "A.H.W.", and "Woodward's Patent", respectively.
One of America's earliest mechanical pencil making companies was Woodwards & Hale, of Brooklyn, New York, established sometime around 1828/1829.
The biographical memoir of General John Woodward – "John B. Woodward: A Biographical Memoir", by Elijah Robinson Kennedy, 1897, provides a little background on his father's business (Thomas Jr.). The memoir indicates that brothers Thomas Jr, George, and Charles, along with their father (Thomas Sr.), emigrated to New York from England in 1818/1819. Shortly after their arrival in America, Thomas Jr. became a silversmith and subsequently established a partnership with his brothers George and Charles, along with "Mr. Hale". This is corroborated by information found in "Longworth's American Almanac, New-York Register, and City Directory". The 1827 edition lists William H. Hale as an "engineer", and the Woodward brothers as having a variety of jobs. However, by 1829, the Directory lists Thomas Woodward as a "silversmith", while George & Charles Woodward share the same business address as William H. Hale at 22 Mercer Street, and the same business, "silver pencils".
In July, 1831, the New York Mirror included the following testimonial regarding Woodwards & Hale: "The most highly wrought and admirable specimen of the ever-pointed pencil, we have lately seen from the manufactory of William H. Hale (Woodwards & Hale) of Brooklyn. It is not only superior, we believe, to all others in usefulness, but exceeds in beauty anything of the kind we ever saw. The point through which the lead passes is of steel, a decided improvement, rendering it more durable and complete; and the wreath of flowers and foliage entwined around the surface is really brilliant. We learn that the original inventor of this article is Mr. John J. Hawkins, civil engineer, and formerly a citizen of the United States. He sold the patent right for a trifling sum, to Mr. Mordan, without being aware how profitable it would become. The Physiognotrace, and also the Manifold Letter Writer, were invented by the same individual. The great perfection to which this indispensable requisite to a gentleman's pocket, and a lady's desk, has been brought in the manufactory of Woodwards & Hale is certainly creditable to those artisans, and to the country, which has long been far behind France and England in similar works of elegance and taste."
Here are some close-ups of the two Woodwards & Hale pencils (Note the steel tips; described above as the "decided improvement" over the Hawkins/Mordan pencils available at the time)…

The first is a nice slider pencil with an "Onion Top" finial; 4.5″ (11.5cm) when open. The second is a calendar pencil; slightly smaller at just over 4.0″ (10.5cm) when open. Woodwards & Hale continued as business partners until 1839, at which point Hale stepped away from the business and it carried on for another 15 years or so as Woodward Brothers.
Alfred Havilah Woodward of Birmingham, England, obtained his first U.K. pencil patent in November, 1883 (U.K. patent #5224), and his U.S. patent for the same pencil design was granted April 1, 1884 (U.S. patent (#296,302).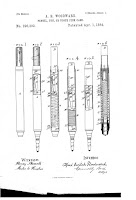 A.H. Woodward used a couple of different marks to identify his pencils. His early pencils were imprinted "Woodward's Patent", and some of his later pencils were only marked on the tip, "A.H.W.", and "I.X.L.". The I.X.L. indicated that it was made at Woodward's "I.X.L. Works" manufactory in Birmingham.
A.H. Woodward's drop-action pencil was imprinted with "Woodward's Patent". Pressing the top releases the writing tip and pressing it again, while holding the pencil upside down, returns the writing tip to the inner casing. 3.25″ (8.0cm) when closed, and 4.0″ (10.5cm) when extended.
In spite of the time and distance gap between the two pencilcase makers, it is a little intriguing that, in addition to sharing the Woodward surname, they were all from Birmingham, England.
Distant cousins perhaps?