Nacre (noun: pronounced "NAY-ker") – otherwise known as mother-of-pearl.
While the inner barrel and mechanisms of most 19th century mechanical pencils were constructed of brass, it was the beauty of each pencil's outer coverings that would capture the attention of the consumer and help to encourage the separation of hard-earned savings from one's wallet or purse. Pencil makers of the 19th century experimented with a variety of eye-catching coverings for their writing implements and one of these was mother-of-pearl.
E.S. (Ephraim) Johnson, of Jersey City, New Jersey, was the first pencil-case maker to patent a method for applying mother-of-pearl slabs to pencil barrels.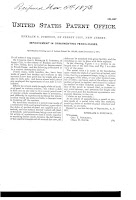 The technique that Johnson describes in his 1871 patent was to make the inner brass barrel polygonal, creating flat panel sides to which the mother-of-pearl slabs could then easily be applied.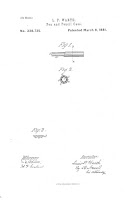 In 1881, Lewis P. Warth, of New York, New York, was granted a patent for an improvement to the technique for applying mother-of-pearl to pencil barrels. The main difference between the two patents seems to be that Warth utilized a round barrel (not polygonal). The mother-of-pearl panels were then bonded to each other and not just to the barrel.
Warth assigned his patent to Frederick Julius Kaldenberg, also of New York. Kaldenberg was part of the F.W. Kaldenberg & Sons Company, one of the largest meerschaum pipe carvers in the U.S. at the time. Why a pipe manufacturer would wish to acquire a pencil-case related patent is unclear.
Both Johnson's and Warth's/Kaldenberg's techniques appear to have been utilized by a number of different American pencil-case makers of the period. Some pencils may have both the maker's name as well as one of the Johnson or Warth patent dates and others may have only the maker's name, or no markings at all. Here are a few from the collection …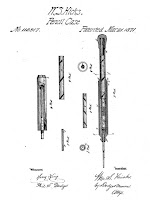 William S. Hicks – Mother-of-Pearl and Abalone Magic Pencil -The panels of mother-of-pearl and abalone would have been applied to the barrel and then the barrel turned in order to produce a nice smooth, rounded feel to the barrel. The pencil is 2.75″ when closed, and 4.75″ when fully extended. While Hicks' name is not on the pencil, the gold base of the pencil casing has the Hicks patent date of March 21, 1871.


Mabie Todd & Co. – Mother-of-Pearl Magic Pencil – This Mabie Todd pencil would likely be a decade or so newer than the Hicks pencil above as its barrel includes the maker's name as well as "Pearl Pat MCH 8 81″, which is referring to the Warth/Kaldenberg patent. This pencil is also 2.75″ closed and 4.75" when fully extended.

Aikin, Lambert, & Co. – Mother-of-Pearl Magic Pencil – This little pencil would date to around 1870-1885. The barrel is imprinted with "Aikin, Lambert & Co". James Aikin and Henry Lambert were New York jewellers that had become partners following the civil war to try and get in on the growing pen industry. In addition to their pens & pencils, they made gold pen nibs and became a supplier of nibs to Lewis Waterman. In the early 20th century Waterman took over Aikin, Lambert. The pencil is 1.75″ closed and it doubles in length to 3.5″ when fully extended.



Unbranded – Mother-of-Pearl with Gold Bands Magic Pencil – The barrel on this one is comprised of alternating bands of mother-of-pearl and gold panels. It is just slightly smaller than the Aikin, Lambert pencil above. There is no maker's name on the pencil but the quality is similar to those above.
So there you have it… some great little mother-of-pearl magic pencils, and a new word….nacre…